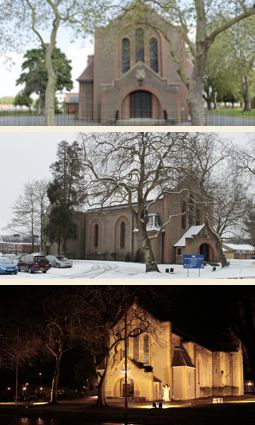 As an army church, St Andrew's is not officially part of the Church of Scotland; however it has strong links with it. During its history, most of its ministers have been ordained Church of Scotland ministers. The main hymn book is Church Hymnary 4, the current Church of Scotland's hymn book. The structure of the service is a traditional Church of Scotland one.
In addition to being a church used by a number of regiments and corps of the British army; a church for Church of Scotland and presbyterian members of the armed forces, both current and retired; and a local church for those in Aldershot, the church also draws many of its congregation from non-military people who come from various parts of North Hampshire and West Surrey for the Church of Scotland style service.
There is a Sunday School, plus a crèche room with toys for young children.
St Andrew's is also a place of remembrance. The church was built in the 1920s, with money raised by fundraising, to the Glory of God and as a memorial in remembrance of soldiers of the Church of Scotland and kindred churches who lost their lives in the First World War. Within the church building there are a number of individual memorials.